We want to make your purchase as easy as possible. That is why we have set up several payment options to suit our customer's needs.

We accept the old standard of cash, check, VISA and Mastercard. However, we understand that sometimes a unit may need to be repaired or replaced unexpectedly. This is where our finance options come in.





Carrier Financing: Financing, with approved credit, through Wells Fargo offers a revolving line of credit to help you finance your replacement system. This line of credit can only be used for Carrier purchases. Call our office or speak with your sales representative for up to date information on Carrier Financing.



Microf: Microf and SunTrust have partnered to provide a single application for a financing and lease purchase program that enables clients to restore their heating and cooling needs with an affordable monthly payment.

5 Things You Need to Know About the Flexible Financial Solutions Application:

Full service lending (through SunTrust) and lease-purchase options (through Microf). One stop shop!*
A FAST and EASY online or mobile application process.
Real-time approval decisions in most cases with more opportunity for an approval.
Flexible options to meet consumers' needs across a broad credit spectrum including low monthly payment, 0% intro APR promotions, deferred payment, or lease purchase for good or below average credit.**
Completely focused on the HVAC Industry. HVAC systems are one of the largest expenses for homeowners, averaging between $5,000-$8,000 for a replacement system.***
Flexible Financial Solutions offers:

Low monthly payment and 0% intro APR options for qualifying clients**
Solutions for customers with good credit or below average credit
A FAST and EASY online application process with an instant decision in most cases
No prepayment or early payment penalties
To apply, all you need is:

A valid U.S. Driver's License, U.S. Military ID or U.S. Passport
Personal information
An email address
About 5 minutes
Apply Here
*Financing and lease-purchase options are available for primary or vacation/second homes, but unavailable for non-owner occupied investment/rental properties.
**0% intro APR option is subject to availability. Please check with your contractor to see if this option is available.
***Source: HVAC Costs Homeowners Should Know (2018, January 17) Retrieved from HVAC.com
SunTrust Bank, Member FDIC. ©2018 SunTrust Banks, Inc. SUNTRUST and the SunTrust logo are trademarks of SunTrust Banks, Inc. All rights reserved.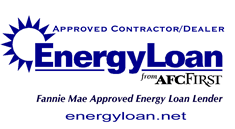 Energyloan: A FannieMae approved energy loan lender, offers a monthly loan payment. A simple application can be done by fax, phone or mail. Approval is usually given in 2 to 3 hours. This loan can be used to help finance your heating and cooling system, as well as other home improvements.